Gate Repair Services
Back To Our Services
It's hardly surprising that the name of "Garage Door Repair Mamaroneck" is synonym to perfection. Our company excels in whatever service it offers and embraces different needs with equal warmth and interest. We are known as major garage door contractors and we can assure you that our gate repair services are equally exceptional. If you have both systems installed in your house, you can enjoy the full garage door and gate services of our company. Those who know us for our garage door repairs can try out our capabilities as specialized gate contractors and vice versa. In either case, our work is exceptional and so is every member of our staff.
Get a glimpse of what our company provides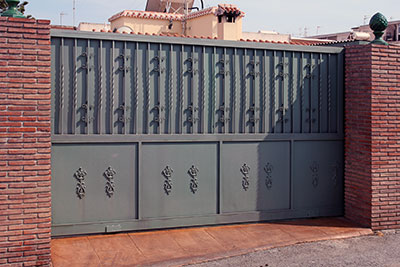 You will love our services and every member of our personnel. With our excellent services you will be enjoying stable and safe gates for a lifetime. Our staff is friendly, ready to answer your questions and dispatch our technicians for immediate services. We are 24 hour emergency contractors, excel in our work and this is what we offer.
Residential gate opener replacement
The condition of the opener determines the movement of the gate. The condition of its entrapment protection system will guarantee your safety. Whether the opener is old or simply damaged, we replace it. We offer solutions depending on your personal needs and order a new opener from the preferred manufacturer of the client. We always make sure the opener is produced in compliance with UL 325 regulations, which are also followed by our technicians during new opener installation.
Driveway gate track adjustment
We fix all track problems. If they are loose and misaligned, we adjust them. We check whether some fasteners need replacement and make sure that the tracks are placed in the right position and that all bolts are tightened.
Rolling gate services
We specialize in rolling gates and their repairs. Our technicians are excellent repair and maintenance specialists and will also replace every part or the gate itself. Our services include adjustments, repairs, broken part replacement and maintenance.
Swing gate repairs
We take care of the swing gate operator, the rusty hinges or sensor problems. We are here to make adjustments and ensure that the panels are closing and opening steadily and properly.
Gate intercom services
Whether you have a Doorking or Aiphone intercom system and need repairs and maintenance or you need a new phone enter system, you can rely on our knowledge. We are familiar with all types of intercoms and of every brand, and provide full and exceptional services.
This is not all that we offer. We don't simply replace the old opener but also maintain it and take care of emergency problems with any part of the system. We deal with emergency problems 24/7 regardless if they concerned the opener or any other part of the mechanism. As long as the gate doesn't close, open or operate properly and either your safety or security is compromised, we'll be there for repair services. The services of our company cover every single need and our ultimate goal is to see smiling clients enjoying safe and functional systems, which ensure security and convenience. So, don't be reluctant to call for services or any questions today!